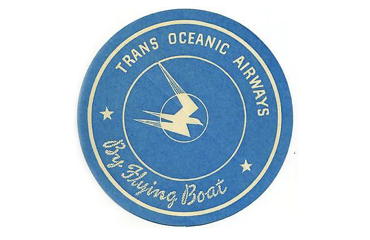 ---
---
Trans Oceanic Airways Fleet:
---
Background Information.
The Commonwealth Disposals Commission (CDC) put five ex-RAAF Sunderland III flying boats (A26-1 to A26-5) up for tender, as a single lot on June 12, 1946. Ex-RAAF pilot Bryan Arundel Wills Monkton tendered to purchase the five Sunderland IIIs, stored at Rathmines, for £1,000 each. Included in this purchase were multiple spares, including 22 spare engines, for a total of £6,000. Much to Monkton's surprise, his quote was accepted and the aircraft were purchased on October 04, 1946. The CDC then gave Bryan Monkton 21 days to remove the five aircraft from Rathmines. It eventually took around two months, although nobody complained. The commanding officer at Rathmines, Group Captain Hugh Birch, provided Bryan Monkton with familiarisation on the Sunderland flying boat at Rathmines. The aircraft were initially taken to Lake Macquarie, before going to Rose Bay, Sydney. To assist in the purchase price and the estimated £2,000 to make the aircraft airworthy to DCA standards, Monkton was loaned £5,000 by ex-RAAF friend Kym Bonython. In return Bonython was to be given 1,250 £1 shares in the proposed new airline.
Trans Oceanic Airways Ltd was incorporated in Sydney on February 24, 1947, with a share subscription of some £50,000, to operate charter and regular passenger services from Rose Bay, Sydney. The principal shareholders were Bryan A.W. Monkton (Managing Director), S. Burleigh (Chairman), and M. A. W. Cayzer (Cayzer Irvine Pty Ltd) and the McArthur Shipping Co. Pty Ltd. Monkton transferred ownership of the five aircraft, spares and equipment to the new company for £15,000, half in shares and half in cash. From the cash he repaid Kym Bonython his £5,000 and arranged for the issuing of the promised 1,250 £1 shares.
Only three of the Sunderlands were converted to a semi-civil stand. The civilianisation involved the installation of soundproofing, carpets and the fitting of 28 passenger seats. On March 07, Trans Oceanic Airways Ltd applied for an airline licence to operate scheduled Sydney - Lord Howe Island services. The initial application was unsuccessful, with the Department of Civil Aviation (DCA) advising that the lagoon at Lord Howe Island was too shallow to permit Sunderland-sized aircraft to land there, forcing the airline to initially operate as a charter airline. Luckily T.O.A. was soon approached by soap-makers Lever Bros. to operate a monthly service to the Solomon Islands, where they operated a large number of copra plantations, including those near Lingatu, in the Russell Islands.
A charter flight from Sydney to Milne Bay, PNG, carrying freight for a Mr. J. Stubbs, using the 28-seat Short S.25 Sunderland III (Hythe) VH-AKO 'Australis', was flown on May 20, 1947. Nine days later VH-AKO departed Rose Bay on a trial charter service to the Solomon Islands carrying 25 passengers, initially flying to the ex-Pan American base at Ile Nou, Noumea and continuing the next day on to Port Vila (the first visit by a civilian aircraft), Espiritu Santo and Honiara. Because of rain over Tulagi, a former seaplane base, near Honiara, the aircraft was unable to land there and eventually landed in the open sea near Honiara. The next day they flew on to Lingatu, in the Russell Islands, some100km north-west of Honiara. The aircraft returned to Tulagi. It later operated Tulagi - Espiritu Santo - Port Vila - Noumea.
The aircraft arrived back in Sydney on June 22. Trans Oceanic soon obtained DCA approval to operate Rose Bay - Noumea - New Hebrides and return every two weeks and to extend that service to / from Tulagi once monthly. They were permitted to fly the Tulagi - Lingatu sector whenever required by Lever Bros. They later established fares from Sydney of £40 to Noumea, £55 to Port Vila, £60 to Espiritu Santo and £80 to Tulagi. Later these services also went to Espiritu Santo - Tulagi via Vanikoro.
Trans Oceanic also operated occasional charter flights to Papua New Guinea, carrying vegetables and other cargo to Port Moresby and sometimes on to Rabaul. One charter flight flew Sydney - Suva, on June 29 carrying an urgently-needed two-tonne ship's propeller-shaft. It returned via Noumea, departing on July 04, successfully landing at Lord Howe Island, near full-tide, without DCA authority, on its return flight to Sydney. This landing at Lord Howe was made by Monkton under the guise of declaring an 'emergency'. DCA was not impressed, but Monkton had proved that the Hythe could land there at high tides. The DCA Regional Director, N.S.W. gave Monkton a dressing down, but accepted his apology and suggested that he apply for approval to operate services to / from Lord Howe Island, based on arriving and departing within 35 minutes each side of the high tide. About this time Monkton declared that he was planning regular services to Hong Kong, Singapore and Fiji, although details were scarce.
Other 'luxury' charters operated included a 3-week Sydney - Egypt - Sydney tour, at a cost of £300 each. This was almost the average annual wage for workers at that time. The Department of Civil Aviation finally gave approval for the airline to operate charter flights to Lord Howe Island in July 1947, after the application was resubmitted. On August 01, the Hythe VH-AKO operated the airline's first 'scheduled' charter Sydney - Lord Howe Island service, carrying 22 passengers, at a fare of £10 each, plus some 1,000lbs (453kg) of freight. This flight was arranged by David Jones Travel Services and was flown by Captain Brian Monkton. These early Lord Howe Island services were advertised as 'Weekends in the South Seas' with passengers and crew spending 3-4 days on the island.
On October 24, 1947 the Short S.25 Hythe VH-AKP 'Antilles' joined its sister-ship in flying operations. During November Trans Oceanic reported that they had completed arrangements for regular operations to Singapore, Hong Kong and the Chinese coast.
During April 1948 the airline applied for a licence to operate the Sydney - New Hebrides - Solomon Islands route - it had already been operating a monthly charter service. The application was refused, as the route had been allocated to Qantas, although Qantas had not operated the route. On April 14, a Hythe arrived at Port Vila with 30 passengers on its monthly charter service - the only service then linking the Solomon Islands with Australia.
On April 18, Hythe VH-AKP began a 25-day charter to Noumea, Suva, Apia, Papeete and return, carrying 17 passengers and 6 crew. By September T.O.A.'s schedules included a monthly service to the New Hebrides and the Solomon Islands and a fortnightly service to Lord Howe Island. Services commenced on the Sydney - Maclean - Sydney route on October 02, using VH-AKO. The Clarence River, Maclean was used, as Grafton did not have an airport. Hythe VH-AKO departed for Europe on what was to be the first of many migrant charters on October 25, returning to Sydney from Augusta, Sicily on December 05, with 40 immigrants.
On December 24, VH-AKO operated the first scheduled Sydney - Grafton service, again landing on the Clarence River and overnighting at Grafton. It returned on the inaugural Grafton - Sydney service the next day, with 30 passengers, with Capt. P. H. Mathiesen in command. The initial fare was £5/10/- each way. Services to / from Maclean ceased following the start of the Grafton services. During 1948, P. G. Taylor became a Director of the Company.
On January 05, 1949 the NSW State Department of Transport advised Trans Oceanic that permission to carry tourists to Lord Howe Island was withdrawn from the next day, due to the 'overtaxing of the boarding house accommodation'. The airline continued to operate, carrying cargo and Lord Howe residents, until the situation was resolved. By August the airline's scheduled services included: Sydney - Grafton 3 times weekly; Sydney - Lord Howe Island fortnightly; Sydney - Noumea - Vila monthly, Sydney - Noumea - Vila - Espiritu Santo - Vanikoro - Tulagi - Honiara monthly.
By October 1949 the Grafton services were operating three-times-weekly and the Lord Howe Island services were now being flown twice-monthly.

The third S.25 Hythe VH-BKQ 'Pacific Star' entered service on November 07, following its conversion to seat 36 passengers. The two remaining Sunderlands (A26-1 and A26-3) were only used as spares and were later broken-up. Work commenced on December 17 to convert VH-AKP to also seat 36 passengers on two decks.
The airline opened a new route on December 24, when VH-AKO operated the inaugural Sydney - Port Macquarie service, with a stop at Taree. The Hastings River was used at Port Macquarie.
During 1949, some 44% of the shares in the Company were exchanged with the MacArthur Shipping Company for a much-needed capital injection of some £40,000. MacArthur Shipping owned a travel agency, which specialised in Lord Howe Island holidays. By taking control of Trans Oceanic Airway, MacArthur Shipping was hoping to control tourism on the island.
Port Macquarie Clipper Pty Ltd was formed on January 07, 1950 and for about 2 years that company, associated with a Port Macquarie development company, run by Phil Dulhunty, chartered Trans Oceanic Airways' Hythes for 'frequent unscheduled' services from Sydney to Port Macquarie, alighting on the Hastings River. The fare was set at £4/19/11 which including the Hastings River oysters served during the flights. Several flights were flown over the 1949 Christmas period, followed by 'scheduled charter' services on Saturdays. These 'Clipper' services only ceased when the loss of 2 Hythes meant that T.O.A. could no longer provide the aircraft.
From August 12, 1949 the Sydney - Port Macquarie service was extended to Taree. Four days later, on August 16, a non-stop service between Sydney and Hobart commenced, using VH-BKQ. The other airlines' service between Sydney and Hobart, at that time, involved a stop at Melbourne and often at Launceston.
On October 29, services commenced on the Sydney - Brisbane - Townsville (overnight) - Port Moresby - Brisbane - Sydney route, using VH-BKQ, after a survey flight had been conducted earlier in the month. They were cancelled on November 05, because of wave height restrictions at Townsville and the lack of a suitable North Queensland alternative landing site. This in part, led Trans Oceanic to seek Short S.45 Solent flying boats, plus the fact that the Hythe did not have the required range to operate Brisbane - Port Moresby non-stop.
During 1950 Trans Oceanic was finally granted airline licences for scheduled operations to the Pacific islands and Port Moresby, which it already served as charters. On Sunday October 29, the Hythe VH-BKQ 'Pacific Star' operated the inaugural Sydney (Rose Bay) - Brisbane (Hamilton Reach) - Townsville (overnight) - Port Moresby weekly service. The return service departed Port Moresby on Tuesday October 31, flying Port Moresby - Brisbane non-stop (in 8.5 hours) - Sydney. Unfortunately, the second service was cancelled, due to rough seas at Townsville. The service was suspended until the arrival of the Solents, which could operate Brisbane - Port Moresby non-stop. The Short S.45 Solent 'Chieftain' services began on May 27, 1951.
During November 1950, after several months of negotiations, an agreement was entered into with Qantas, whereby T.O.A. exchanged its Pacific Island routes for Qantas' Lord Howe Island licences. On November 23, VH-AKO operated its last service. It was officially withdrawn-from-service on December 19 and had been scrapped at Rose Bay by August 06, 1951.
Trans Oceanic announced the suspension of their monthly Sydney - New Hebrides charter flights, as part of its agreement with Qantas on December 02, 1950.
Some eight days later, and on the other side of the world, British Overseas Airways Corporation (BOAC) ceased all flying boat operations and advertised its remaining flying boats for sale on December 10, 1950. Trans Oceanic examined the possibility of purchasing two or three of their Short S.45 Solents, at an estimated cost of some £150,000 Sterling for 2 aircraft, plus spares and operating support equipment. To help finance such a purchase the MacArthur Shipping Company, which represented the U.K.-based Clan Line in Australia, indicated that they understood that the owners of the Clan Line, the Cayzer Irvine Company, were interested in investing in the airline business. After discussions in the U.K., Cayzer Irvine Company initially financed the purchase of 2 ex-BOAC Solent III flying boats. Tony Cayzer, the son of the Chairman of Clan Line, invested £240,000 Sterling in T.O.A. On December 20, the airline purchased three ex-BOAC 39-seat Short S.45 Solent III aircraft, for use on their Sydney - Hobart and Sydney - Port Moresby routes.
The first Solent planned for delivery, G-AKNO, which was to become 'VH-TOA' sank in Marsaxlokk Bay, Malta, during its delivery flight on January 27, 1951, killing 1 person. By April Trans Oceanic were operating three Sydney - Hobart services per week, but their Sydney - New Caledonia - Solomon Islands services had been discontinued, due to lack of patronage.
The airline had better luck on April 02, 1951 when the Short S.45 Solent III, G-AKNP, arrived safely at Brisbane, from the United Kingdom. It began operations April 05, when it flew a promotional Sydney - Hobart flight. It was reregistered VH-TOB, and named 'Star of Papua'on May 01, before commencing regular service the following day flying Sydney - Hobart non-stop in only 3.5 hours.
Passengers on the Hythe VH-BKQ experienced a few heart-stopping moments on April 16, when the aircraft lost the port-outer propeller and reduction gear some 20 minutes into the Sydney - Grafton flight. The aircraft returned to Rose Bay and was withdrawn from service. Repairs were abandoned and it was officially withdrawn from service on June 28. It was scrapped at Rose Bay during 1952. VH-AKP thus became the airline's sole operational Hythe. It was retained as the Solents' greater draft meant that they were not suitable for operations to Lord Howe Island.
The Solent III, VH-TOB 'Star of Papua' operated the inaugural Sydney – Brisbane - Port Moresby 'Chieftain' service on May 27, departing Rose Bay at 19:15, flying through the night and arriving Brisbane at 22:00, departing 00:00 and arriving at Port Moresby 06:30; allowing passengers to connect with early-morning flights to Lae. The return flight departed Port Moresby at 09:30, arriving Sydney at 20:15. With the arrival of the second Solent, a second weekly service was added, departing Sydney on Wednesdays and Port Moresby on Thursdays. By May Trans Oceanic were also operating a weekly Sydney - Lord Howe Island 'Blue Lagoon' services and a 3-times-weekly Sydney - Hobart 'Ambassador Service' service and a twice-weekly Sydney - Grafton 'Jacaranda' service.
Solent VH-TOB was struck by a 50-tonne fruit boat 'Florant' on June 18, whilst taxying for take-off on the Brisbane River around midnight, en-route to Port Moresby, after 2 of its engines failed to start, causing the aircraft to drift into the path of the boat. It was out of service for four weeks. Whilst it was out of service the Barrier Reef Airways' Sandringham VH-BRD was chartered.
Trans Oceanic's third Short S.45 Solent, VH-TOC, entered service on July 25. It had arrived from England on July 14, as 'G-AHIV'. The airline operated its inaugural Solent non-stop Sydney - Hobart service, using VH-TOB, replacing the aging Hythe on July 25. The schedule operated Tuesdays, Wednesdays and Fridays.
On September 05, they increased the Sydney - Port Moresby services to twice-weekly (Wednesdays and Sundays) and added a fourth service per week on the Sydney - Hobart - Sydney route.
The airline's last Short Solent 'G-AHIO' arrived at Rose Bay, Sydney on October 04. On October 26 it was pressed into service, giving T.O.A. a fleet of four aircraft - three Short Solents and one Hythe VH-AKP. 'G-AHIO' was reregistered VH-TOD on December 10, entering service as such the next day. Grafton was now served twice-weekly, Hobart four-times-weekly (Mondays, Wednesdays and twice on Fridays), and Lord Howe Island 6-times-monthly. An arrangement was also made with Mandated Airlines to connect Trans Oceanic's Port Moresby services with M.A.L.'s services to / from Bulolo, Lae, Madang, Wau, and Wewak.
Disaster befell the Solent VH-TOC, when it struck a davit on the stern of the moored dredge 'Platypus II', whilst taking-off from the Brisbane River, on a flight to Port Moresby on October 28, 1951. The starboard wing was severed 6.7m from the tip. Despite a worldwide search, no replacement wing could be located, at an acceptable price. The insurance company decided to write the aircraft off and it was scrapped at Colmslie, Brisbane, in 1953. The insurance company sued the DCA for negligence and won the resulting court case, with the payout being used to purchase a replacement aircraft, which eventually became VH-TOD. To cover the immediate loss of the aircraft, the airline used Hythes to replace Solents on some services to both Hobart and Port Moresby.
Trans Oceanic announced on November 07, that they planned to increase the Sydney - Hobart - Sydney service to daily except Sunday. The change never happened, although extra operations took place on January 09, 12 and 26, 1952.
In late 1951, Cayzer withdrew most of its finance in Trans Oceanic, with the Rose Bay base now being in a poor condition. On top of that, aircraft were often unserviceable and thus the airline's services suffered. In short Trans Oceanic was in trouble.
By 1952 the airline was left with services to Hobart, Lord Howe Island, Grafton and Port Moresby only. The Lord Howe Island services were increased to 6-times-per-month. A.N.A. introduced a direct Hobart - Sydney service using their Douglas DC-4 aircraft on February 15, providing more unneeded competition.
The airline's Solent VH-TOB collided with a small cargo vessel, whilst taking off from the Brisbane River on March 22, operating a flight to Port Moresby. It was repaired and re-entered service some four weeks later. By April the lack of traffic reduced the Grafton service to just one-per-week. It announced on April 13 that they would cease operations on the Sydney - Port Moresby and the Sydney - Grafton route, due to unacceptable costs.
The final Sydney - Grafton service was flown by the Hythe VH-AKP on June 17, although Barrier Reef Airways operated a service on June 20, to carry some leftover pre-booked passengers. They took over the route in their own right on June 27, 1952.
Trans Oceanic Airways went into liquidation on July 01, 1952, after the Cayzer family decided to withdraw all support to the now troubled airline. The Company had lost some £100,000 in the previous year and owned some £200,000 on the Solents. All operations, except for a limited Sydney - Lord Howe Island service, ceased.
On April 15, 1953 Trans Oceanic was declared insolvent by its liquidators and ceased all operations. Ansett Airways stepped in and acquired their remaining Short S.25 Hythe VH-AKP on May 21, 1953, to replace Barrier Reef Airways' Short S.25 Sandringham VH-BRD, along with airline's Sydney - Lord Howe Island and Sydney - Hobart route licences and the Rose Bay flying boat facilities. The following day Reg Ansett announced that ATI would take over T.O.A. operations, subject to DCA and NSW State Transport Boards' approval.
Trans Oceanic's other non-operational Short S.25 Hythes and the Short S.45 Solent VH-TOC had been / were scrapped. T.O.A.'s assets had previously been valued at $330,000 for the three the Solents and $12,000 for the three non-airworthy Sunderlands / Hythes.
The Short S.45 Solents VH-TOB and VH-TOD had been sold by May 01, by the administrators, to Dollar Associates, in the United States for use by the planned South Pacific Air Lines, Inc. Meanwhile Ansett operated non-scheduled charters to Lord Howe Island until taking over scheduled operations on July 09, using the Short S.25 Hythe VH-AKP, trading as Ansett Flying Boat Services. This consolidated Ansett's flying boat operations at Rose Bay.
Trans Oceanic Airways was officially dissolved on June 23, 1962. At some stage the airline served the following ports: Brisbane, Espiritu Santo, Grafton, Hobart, Honiara, Lingatu, Lord Howe Island, Maclean, Noumea, Port Moresby, Port Vila, Sydney (Rose Bay), Tulagi, Taree, Townsville and Vanikoro.
(My thanks to Fred Niven, Ansett Historian, for this history)